What is Supply Chain Management and Why Is It Important?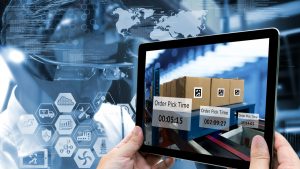 Your supply chain is the culmination of all the resources required to deliver goods to your customers. Because many businesses are continuously changing inventory, supply chain management is critical to the ebb of flow of materials, and an essential part of high customer satisfaction and overall company success.
That is why businesses should make a considerable effort towards organizing their suppliers and implementing coherent supply chain management strategies. In this article, we discuss the basics of supply chain management, why it is important for every business, and pivotal aspects in effective supply chain management strategies.
What is Supply Chain Management?
Supply chain management is a set of policies in place to help integrate the flow of products, financial information, and other vital information from manufacturers, wholesalers, distributors, retailers, and supplies, to the final customer, and back through the chain again. Or in other words, it covers your production, shipment, and distribution processes. Supply chain management expands to everything from the final sale to changing inventory. Therefore, it a crucial aspect of any business that produces and sells products.
Likewise, since there are costs associated with reaching organizational goals, it is paramount that companies establish and implement a supply chain management plan or strategy to determine the service level of short-term and long-term procurement goals. Your goals should always comply with your business's broader corporate strategy and your fundamental corporate philosophy.
When an effective supply chain management plan is in place, it is now possible for companies to make rational and informed data-driven decisions in regards to how to procure their raw materials, as well as how to deliver finished products to customers. These include guidelines on the procurement source, product quality standards from the supplier, and how to deliver the goods on time. A supply chain management strategy assists supply chain managers in determining the necessary action needed when mishaps occur, such as how to address a late supplier or how to appropriately deal with a product quality issue.
Why Supply Chain Management is Important
Supply chain management essentially helps lower the cost of doing business, as well as increases the speed of obtaining raw materials, producing the product, and delivering the final good. Supply chain management is an incredible way for businesses to form a competitive advantage without lowering the price of their products, all the while being able to deliver more orders much quicker to customers. The main reasons why businesses should consider using a supply chain management strategy include:
Boosts Customer Satisfaction: Today's customers expect their products delivered quickly and on time. When you have a supply chain management strategy that optimizes delivery speeds, you increase your customer satisfaction. As you could probably guess, supply chain inefficiencies can hurt your overall customer experience, and thus, hurts your bottom. Reduces Operating Costs: Effective supply chain management strategies enable businesses to decrease the cost of purchasing raw materials, as well as their production costs, which could save your business a significant sum of cash. Better Financial Situation: Businesses value their supply chain managers because they reduce and control supply chain costs. When a company can reduce costs through effective policy, without jeopardizing the integrity of the final product, it puts the company in a much better financial situation, which ensures better long-term financial stability and success.
As you can see, supply chain management has a direct impact on a company's overall performance. From a strictly cost control perspective, estimates indicate that companies with global supply chains have 80-90% of their total costs associated with their supply chains. Not to mention, increased globalization and the complexity of modern supply chains make supply chain management more essential than ever before.
Pivotal Aspects of a Supply Chain Management Strategy
While every business has a unique supply chain management strategy, there are several pivotal aspects to all great supply chain strategies. These aspects include:
Supply Chain Network Structure
The supply chain network includes physical structures, such as warehousing sites, manufacturing facilities, and customer locations, as well as any other logistics involved. Organizational philosophy should influence the handling and structuring of the supply chain network to ensure everything adheres to company policy.
Legal and Ethical Standards
Businesses also need to identify legal standards related to their procurement process, along with the necessary ethical standards. Having clear and concise legal and ethical standards ensures companies comply with their corporate responsibility and environmental promises.
Supply Chain Management Software and Technology
Managing and interpreting all the data associated with supply chain logistics can be quite cumbersome. Fortunately, businesses can adopt supply chain systems to help monitor stocks, such as using IoT devices or barcoding to track movements and locations. Likewise, supply chain software solutions can enhance supply chain visibility and can integrate the software with other corporate systems.
S&OP Policies
Since your supply chain does not operate inside a vacuum, all supply chain management decisions and strategies should align with your corporate philosophy and are present in the same financial language.
Supplier Profiles
You should be aware of who you do business with and know them inside and out. Supplier profiles help companies determine who they do business with. It also outlines certain system requirements businesses must utilize to manage product quality and delivery time.
Get a Supply Chain Expert You Can Trust
At StockIQ, we're supply chain experts here to help you optimize your supply chain process and actually create value from it. Our company provides a full-service supply chain management software that assists you throughout the entire supply chain process. If you would like to learn more about how we can help your team, feel free to contact us today.
---