Inventory Forecasting Within Microsoft D365 and Business Central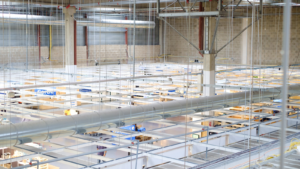 Inventory control is the table stakes of supply chain management for 3PLs and distributors. At the end of the day, despite whatever pressures or short-term challenges are weighing on your supply chain, predicting inventory demand and managing inventory loss is your single most important responsibility. Here's the problem: historical accuracy rates for inventory management stand at an abysmal 63 percent. And that was a few years ago when a mere 7.3 percent of sales were cascading across digital channels.
Today, many supply chain managers are drowning in the complexity of their inventory requirements. To grab quick wins and build resilient and profitable warehouses and distribution centers, you need to understand your inventory requirements (with near-perfect accuracy) weeks, months, and years before the inventory even shows up at your doorstep.
So how do you do this without delving into spreadsheets and giving it "your best shot"? For most, the answer is machine learning, data, and analytical platforms. Among these, Microsoft Dynamics 365 Supply Chain Management is quickly becoming a market leader. While Oracle, Epicor, and JDE are still regular fare in the supply chain management ecosystem, many 3PLs and distributors are turning towards Microsoft, partially due to its commanding ecosystem.
Fortunately, Microsoft dispenses some of the world's most accurate forecasts. Unfortunately, these forecasts aren't necessarily geared towards inventory-centric businesses. For many inventory-centric organizations, it's critical to amplify what Microsoft can do, by integrating a separate forecasting software.
Understanding the Value of Inventory Forecasting
Accurate, robust, and value-driven supply chains rarely make a peep in boardroom meetings. When the supply chain gets discussed by C-level, it's almost always bad news; and it's almost always inventory-related. 
According to McKinsey, inventory challenges — like overstocks and stock-outs — cost the retail industry over $1 trillion annually. Those costs don't include the evergreen intangibles such as customer retention, relationship quality, and employee labor, which almost certainly add additional fuel to the fire.
Fortunately, dealing with inventory issues and uncertainty isn't an inherent component of running an inventory-driven business. We're entering an age where uncertainty is becoming a historical artifact of pre-digital management strategies. Supply chain managers that invest in the right technology, implement best-in-class strategies, and tackle inventory issues with bold and remarkable solutions see 3 percent higher overall revenues, a 45 percent reduction in write-downs, and 10 percent less working capital requirements. But those are baseline gains against an economy that, when said research was published, was relatively stable. 
Today, in the midst of a global inventory whiplash, the value of inventory forecasting goes far beyond modest or even remarkable revenue gains: it helps you hedge your bets against uncertainty and demand-side fluctuations.
In 2020, previously solidified and resilient supply chains experienced stockouts and overstocks. Between an overnight shift to eCommerce-centric logistics to waves of unique and unprecedented demands for certain goods, trying to worm your way through the chaos wasn't easy. And, while things are certainly calmer than last year, they will likely never return to that "golden" pre-pandemic status. 
You need to place smart bets on intelligent, data-driven solutions. Which in many cases, may mean integrating your Microsoft D365 with a program like StockIQ.
Technology is helping to fill the ever-growing gaps in inventory forecasting. Manual methods of demand forecasting don't cut it. According to McKinsey, the accuracy difference between digital demand forecasting platforms and manual forecasting is a whopping 30 percent, and trying to manage inventory in today's complex supply chain is nearly impossible without the right tech stack.
For many supply chain managers, Microsoft Dynamics 365 is a beacon of light. Dynamics 365 is backed by Microsoft's global-scale security, (nearly) infinite R&D budget, and world-beating cloud architecture. But it does have some gaping holes in its inventory predictive capabilities, that StockIQ was designed to fill.
A Quick Foreword on the Microsoft D365 Architecture
Before we dive into the specifics of Microsoft Dynamics 365 and how it relates to inventory forecasting, let's quickly touch on the architecture of Dynamics 365. Microsoft has bundled a variety of apps, all of which require their own unique license, under the "Dynamics 365" banner. The supply chain management solution is called Microsoft Dynamics 365 Supply Chain Management (or D365 SCM).
One of the major value drivers of Dynamics 365 SCM is that it exists in the Dynamics 365 ecosystem. This means that you get access to vertical solutions like Microsoft's machine learning platform, Power BI, Excel, and Power Apps, which can all feed data back into your SCM platform. Having all of these apps intersecting each other is incredibly powerful, dynamic, and holistic, but it may require you to invest in some parallel solutions. As an example, to take advantage of inventory forecasting, you will need an Azure subscription — which comes with Microsoft Azure Machine Learning Studio.
Again, this isn't necessarily a con. Typically, companies go all-in on Microsoft. It works best if you bet big on the entire Microsoft ecosystem. In fact, it's rare to see SCM deployed in a tech environment without a full Microsoft stack. This can make the change management process of SCM a little tedious, but that's generally offset by Microsoft's robust partner network — which are companies that are incentivized to help you address change management.
That being said, just because Microsoft makes a program doesn't mean it's the be all end all of forecasting. Brand names can have holes too.
Microsoft D365 & Inventory Forecasting
Now, let's look at how MSD365 SCM helps supply chain managers forecast inventory needs at scale. This happens across three "layers."
SCM will use historical transactional data, which can be fed in from other systems or generated organically, to a staging table.

The staging table is fed into Microsoft's Machine Learning Solution, which then generates multiple forecasting models.

You can plug the forecasting models back into SCM for visualization and use.
Obviously, this is a condensed version. Actually setting this up takes some time, and you'll have to learn how to use SCM and Azure. But the basic premise is simple. Microsoft uses historical transactional data to generate demand. However, unlike manual solutions, it does this nearly instantly, at scale, and using world-class machine learning algorithms.
These forecasting models help you predict demand and find confidence in your overall demand-side reactions. However, it has some limitations.
StockIQ + D365: Building a Robust Forecasting Ecosystem
The forecasts Dynamics 365 currently produces can only help you with specific demand-side needs. In general, while DS365 forecasting does help you understand demand over a specific period of time, it isn't intrinsically inventory-oriented, which we've found can be a let down. In fact, Microsoft gives the following warning on their SCM forecasting page:
D365 SCM "might not be the best fit for customers in industries such as commerce, wholesale, warehousing, transportation, or other professional services."
There's a gap in Dynamics between inventory management and demand forecasting. Dynamics 365 isn't purposefully-designed to handle inventory forecasting: it specifically tackles demand-side forecasting for manufacturers.
That's why we built StockIQ.
Our inventory forecasting solution naturally integrates with D365 SCM, and it can use your SCM data to generate rich and accurate inventory forecasts across a variety of scenarios. We've tested StockIQ against billions of instances, and it's capable of generating world-class forecasts that help you understand the true context of your inventory across many buckets, including:
Disruption planning

: If COVID-19 taught us anything, it's that we need to be prepared for disruption. And this disruption comes in a variety of shapes and sizes.

Seventy-two percent

of senior execs expect supply chain risks to increase year-over-year for the foreseeable future. Acute climate events have

increased over the past two decades

. And there are

four new

human-oriented viruses found each year. We let you plug in event scenarios and generate fresh, new, and meaningful forecasts that take these black swan events into account.

Promotion planning

: Promotions can quickly throw a wrench in existing forecasts, especially if those forecasts don't account for ad-hoc outliers. When these promotional events happen — which rapidly increase demand across a very specific group of items — it can skew your forecasts and eat away at your overall accuracy. Worse yet, this skew can impact your downstream inventory requirements, so promotions have presented a tangible threat to traditional forecasting models. With StockIQ, you can scan your past promotions to predict demand based on those specific promotional time periods. Instead of skewing your entire forecasting, StockIQ helps you prepare for your promotion while keeping downstream inventory requirements steady through the storm.

New part planning

: Another disruption-centric component of forecasting is new part planning. Introducing new parts to your predictive models can throw them off. StockIQ provides a unique workflow for new part planning that helps you naturally integrate these parts into your forecasts without skewing your model.
StockIQ was purpose-built for 3PL's and distributors. Our solution is inventory-centric, and we rally around inventory-driven forecasting and analysis.
Are You Ready to Find Value in Inventory Management?
Every stockout, dead inventory, excess, and expiration represent wasted capital. Supply chain managers need a seamless way to instantly predict inventory demands, revise safety stock requirements, and reorganize distribution models to account for changes in the demand-side. We can help. At StockIQ, we help distributors make no-regret decisions based on the best available data and prediction models. Our solution can instantly integrate with D365 to generate smart, inventory-driven models. Let's build resilient and predictable supply chains — together. Contact us to learn more.
---